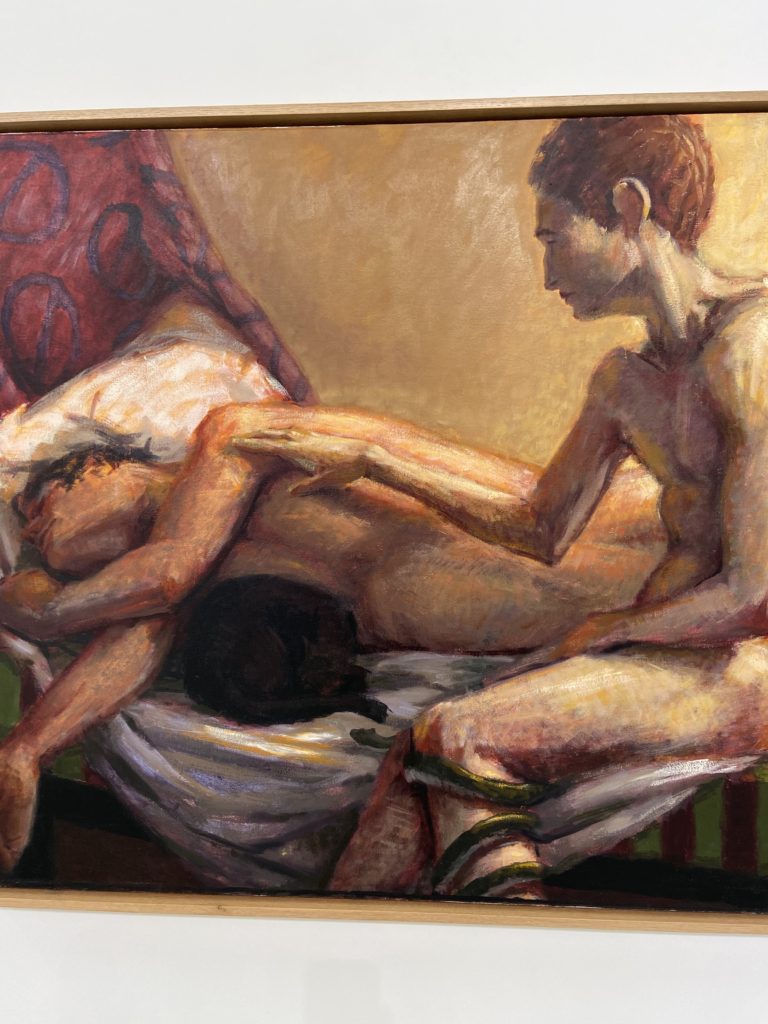 The snakes. They were the surprising aspect of the Hugh Steers show on view this week at Alexander Gray (closing this Saturday April 3). I hadn't seen them before. Later, when I read that this was actually late work I was no longer surprised; at the time Steers made them, the snakes all but shout how the walls were closing in.
Steers died of AIDS at the age of 32 in 1993, the same year as my ex-partner and best friend. The images I carry of that time are direct, horrific and devoid of poetic symbolism. I didn't know Steers' work then but if I had, the beautiful horrors experienced by both the infected and their caregivers would've been plain in his work: shadowy rooms filled with the colors of life; the exhaustions of a plague writ on the brows of subjects whose faces hint at the beautiful youths they once were, while their loved ones hover, or conjoin, to offer what solace they can. Steers' gift lies truly in his renderings of fatigue, especially in the way that loved ones take on the physical dilapidations suffered by the ill. It's as if the artist sees how they've been made sick by the stress of it all, an act of transference hauntingly familiar to anyone who witnessed.
Heartbreaking scenes are made more so by the flushed color that is a Steers hallmark. Deeply vibrant, they telegraph a goodbye to our lovely world, a universal tragedy of death no one escapes. The aforementioned snakes, when they appear, provide an element of darkness that is chilling, though some might find them symbolically heavy-handed. If the show has a flaw, though, it's in not showing how the artist transitioned from homages to Cadmus/El Greco/ Vuillard (and those influences do linger) to Pieta-like portraits juxtaposed with those of subjects who have literally fallen down, their bodies broken irreparably from a different virus than the one that's currently with us.
I would've liked to see some of that early work. Maybe we'll get them in a larger show one day. Meanwhile, let's celebrate what Steers left: emotional snapshots that solidify an earlier age of grief.
Hugh Steers: Strange State of Being
Alexander Gray Associates
510 West 26th Street, NYC
www.alexandergray.com