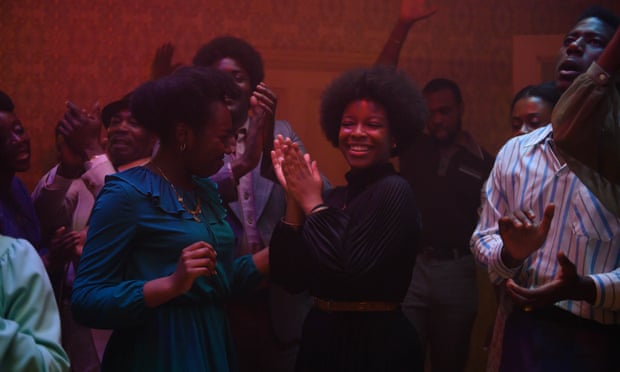 Last night I enhaled the glorious mise en scene of Steve McQueen's Lover's Rock, one of the five short films that comprise his Small Axe series (Amazon Prime). All that polyester! Sweaty dancers and swigs of beer redolent of high school parties in the basements of classmate's houses! It's the power of film, and its universality; McQueen's story of a crazy-tilt night out takes place not in the Midwest of my origins but in a London suburb populated by Jamaican emigrants. Through it I saw, and took solace in, a long-ago time when youth savors the freedoms and possibilities that only a turntable groove can unleash.
I've read that McQueen felt he needed time, and distance, to bring this story to the screen. Yet nothing feels overthought; everything feels primal, explosive, but most of all, true. Some journalists have carped that with the Small Axe series McQueen comes into his own, as if telling a personal story populated by people of color makes him more "authentic." It's a backhanded compliment for the director of Hunger (depicting the hunger strike of Irish Republican Bobby Sands) and 2011's Shame, a searing look at one white man's sexual addiction. A truer statement would be this: McQueen's range and talent as a filmmaker is unbound by subject, style or especially, race.
So many stories are embedded in the tale: love, and longing, in an embodiment that many who were once young will recognize; how violence and rapture can be indistinguishable in our search for true connection, both to our cultures and to the larger world as evidenced by Martha (Amarah-Jae St. Aubyn in a show-stopping debut), a child of abuse who chafes at the strictures imposed by her God-fearing family. Having snuck out of her house to attend a house party with a girlfriend who abandons her there, she meets Franklyn (Micheal Ward) a fly not-quite Lothario who turns out to be in flight from his own oppressions. The beauty of their coming together plays out orgiastically amid swirling sounds of Reggae and transAtlantic soul music (Americans will recognize the lyrics of such R&B classics as "Lonely Girl.") and the amber hues wrought by cinematographer Shabier Kirchner, art directors Guy Bevitt and Adam Marshall, and especially, the wondrous period costumes of Lisa Duncan and the ingenuous Jacqueline Durran. The flare trousers, the geometric shirting and those flowing party dresses (the home-made dress is a motif here) meant to convey the hours and toil young women of the period poured into their looks reminded me of my older brothers and sisters circa high school.
Throughout the film, we see explosions of street dance, all the more remarkable for the way the camera catches their flow and rhythms. One moment it's a line dance of women playfully deploying Bruce Lee moves to the tune of "Kung Fu Fighting," the next, a coven of young men throwing their bodies against the wall (and each other) like enchanted beasts. In them you see anticipation, hope and love. Community as a shield against the forces that tell them they are nothing; for this night at least, what's outside gets cast aside. What a love letter—I can't wait to watch the next Small Axe installment.