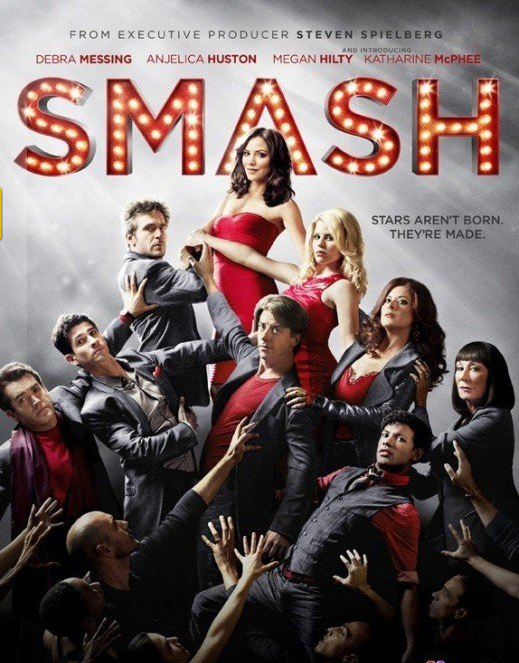 Ask any rabid television fan: the road to hell is paved with the carcasses of shows that are too out there, too cerebral, too genre, too tiny-demographic-by-way-of-special-interest-esoteric.  You could go back as far as Adam's Rib (a short-lived comedy series starring Blythe Danner and Ken Howard) or Honey West (Anne Francis as a karate-chopping private eye with a pet ocelot) but the last five years will do.  Just talk to the people who watched Rubicon, Cougar Town, The Event, V, Brothers and Sisters, to name a scant few, and watch the wistful misty-eyed sorrow rise to the surface.  Really, they'd say, they cancelled that show but renewed another season of Dancing with the Stars/American Idol/The Bachelor/(substitute the name of any reality show here)?
Add Smash to the list of cancelled contenders for my affection.  It wasn't perfect—there was that Ellis character, and, a few episodes back when my spouse turned to me and asked, "Remind me-what 's the plot of Hit List again?" I too had to reach back into the haze—but its virtues and craftsmanship trumped any number of long-running shows I'd walk a block out of my way to avoid.  How cool to hear the work of current Broadway composers and lyricists (damn, "Let Me Be Your Star" is still worming its way through my marrow) featured every week; like the Playhouse 90 days of lore, how great to see crack stage actors like Christian Borle, Megan Hilty, Jesse L. Martin, Brian D'Arcy James, Leslie Odom, Jr., Jeremy Jordan, Krysta Rodriguez, Andy Mientus (and no disrespect to Katharine McPhee who did more than keep up—boo to the folks who said she lacked charisma) mixing it up with Debra Messing, Angelica Huston and Michael Cristofer; how strange to realize the reason Jack Davenport's Derek creeps me out is because when I was in the biz I worked with so many directors like him (some of them even had his accent, or affected it to convey the proper brutishness).  Did I mention guest stars like Bernadette Peters, Veanne Cox, Sean Hayes, Dylan Baker, Jennifer Hudson, etc., etc., etc?.  Musical numbers?  Every Week.  For Free.  All you had to do was show up.
Which I did with pleasure.  I was rooting for it while thinking about all those kids (who I was once) out there in the hinterlands watching too, aspiring to stage careers (it was also a fond reminder of Bracken's World, a one-season NBC wonder that was about the movie biz, but I digress—and date myself).  Smash was something to point to, a quality quotient echoing an increasingly distant time when talent and imagination actually meant something.  On television in recent years, such stuff means very little, which leaves the smart viewer with one option only: sidestep it in order to savor ancient vintages of shows (cue box sets of everything from Space:1999 to The Mary Tyler-Moore Show) that respect us viewers rather than bow to the ratings/advertising dollars and in the process, trample our hearts.