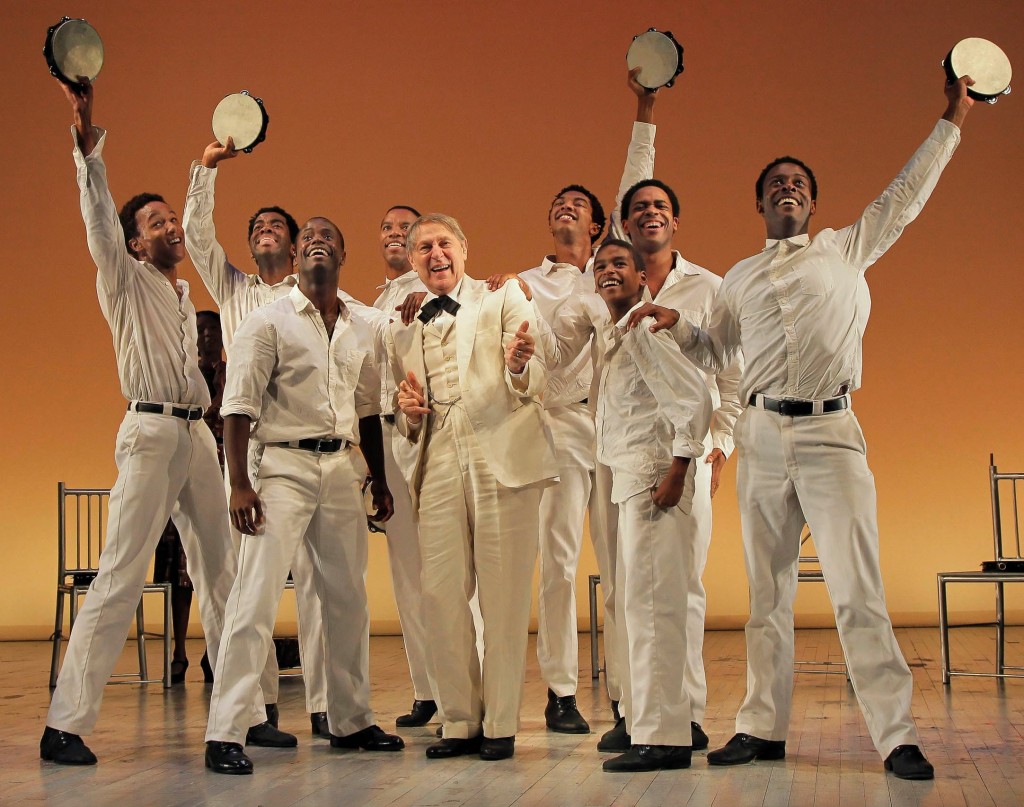 Published in Attitude: The Dancer's Magazine, Winter 2011
2010 ends as the country strives to dig itself out of snowstorms that clobbered both the Eastern and Western regions of our nation.  The weather feels an apt metaphor for a multiplicity of woes beyond airport delays and unplowed streets—think, for instance, of the snow job visited by Tea Party and Republican politicos on a scared, money challenged public that resulted in mid-terms that took away the Democratic majority in the House and Senate, or the oil-spill disaster in the Gulf region courtesy of that corporate giant, BP.
For theatergoers the closing of quality shows can also feel like a nefarious plot to thwart audiences' cravings for work that engages the mind and heart.  With the beginning of January came the closing of eight Broadway musicals.  Such post-holiday closings are typical (some, like In the Heights and the revival of West Side Story had respectable runs).  But a few of the shutterings symbolize the difficulty of mounting work that aspires to something beyond fodder for New York's tourist trade.  With the abbreviated runs for the recent The Scottsboro Boys and Bloody, Bloody Andrew Jackson, one despairs how inhospitable Broadway has become to musical theater that strives to reinvent itself in new and daring ways.   Below, some shows that now go the way of legend.
Promises, Promises (Revival, Broadway Theater, closed January 2, 2011).  How do you communicate the exuberance of a Mad Men era caught between the Cold War and the Summer of Love, a land where office politics and sexual trysts flow like rivers of Tom Collins?  This 1968 musical based on Billy Wilder's film, The Apartment, has been reset in 1960; Rob Ashford does a fine job of establishing how business and sex commingle in the show's jazzy opening ballet, a dreamy display of lay-backs, extensions and flips (for once, the physically variable dancers who toss off jumps and backbends like subjects in a Robert Longo portrait, actually look like the executives and secretaries they play) aided by set designer Scott Pask's spinning trolleys of desks and hat racks.
Promises' original choreographer Michael Bennett (alongside cast member Donna McKechnie) had been a go-go boy on "Hullabaloo," a dance show that was a Day-Glo version of "American Bandstand;" if you look at the You Tube clip of his "Turkey Lurkey Time" number, it's clear how well he translated that improvisatory idiom to the stage—and how Ashford's current rendition pales both in explosiveness and variety, something of a shock from someone whose work on Thoroughly Modern Millie and CryBaby: The Musical displayed an exemplary grasp on finding signature moves for period styles.  As Ashford works many variations on the twist, there's enough hip  swiveling to slip a disk, though boomers will also recognize snatches of the jerk and the frug.  But the number feels abbreviated, mainly because the solo turn for secretary Vivien della Hoya (the role that made McKechnie a star) is absent.
The Scottsboro Boys (Lyceum Theater, closed December 12, 2010).  A Susan Stroman triumph, both for the dancing and the guts it took to take on one of the most ignoble chapters in American history.  The true story of the 1930 case in which 13 young black men were unjustly accused of rape by 2 white females seems a perverse subject for a musical, but then so was Sweeney Todd.  But this show, with music and lyrics by John Kander and the late Fred Ebb (have any other theater composers written more dance-fueling music?), takes the tradition of mistrelsy and exploits it to a Brechtian fare-thee-well, deploying dance idioms (buck, tap, and dramatically, the cakewalk), rictus grins and exaggerated shuffles in ways that amuse as they chill the bone.  Stroman's DNA has been altered—this is the kind of daring you'd expect from a Fosse or a Harold Prince, not the creator of such valentines to show business as Crazy for You and The Producers.  With Scottsboro, Stroman, book writer David Thompson and Kander and Ebb join the pantheon, and regain their footing after 1997's Steer Pier, their ill-fated look at the barnstorming, marathon-dancing 1930s.  They remind us that history keeps repeating—one doesn't have to look far to see how our current shames (people of color continue to be incarcerated disproportionately) coalesce with this tale of early-20th Century injustice.   Another plus is entertainment that doesn't confer the usual generic warm and fuzzies typical of Broadway; The Scottsboro Boys leaves you feeling enraged, which is a different kind of elation.  Such nerviness makes it premature closing all the sadder.  I hear the producers have launched an Internet campaign to bring it back—everybody vote.
Women on the Verge of a Nervous Breakdown (Belasco Theater, closed Jan 2, 2010).  When word came that Lincoln Center and the director Bartlett Sher were adapting this Almodovar film for the stage, my heart leapt.  Almodovar's ultra-surreal worlds, loopy wit and larger-than-life characters for whom the word melodrama feels an understatement, seemed an inspired fit for the talents of Sher, who brought Venice to aching life in The Light in the Piazza.  What a shame to encounter a show that has neither the flavor of Almovodar's Madrid (we could be anywhere) or the over-the-top drama of a telenova.  The show refuses to take off despite the presence of Rialto heavy hitters like Patti LuPone, Brian Stokes Mitchell and the radiant, game Sherie Rene Scott.  You sit in the audience and try to pinpoint where it went wrong: was it the songs (by David Yazbek, whose music managed to turn another film-to-stage adaptation—The Full Monty—into an inspired exploration of macho men who turn to stripping to win back their families and their self-esteem) that never climax in satisfying ways, or Sher's perverse staging that has actors singing upstage (as in the opening, a muted affair indeed) instead of in our faces, when they're not dodging sets and projections?
The physical production shows more choreographic invention that Christopher Gattelli's dances are allowed.  His work—dribbles of tango, salsa and moves from Musical Theater Dance 101—get rendered either upstage or in shadow, as if in apology, which means it registered with no more impact than the set pieces flown in to establish yet one more non-distinct setting.  The dancers were certainly not without talent (among them was Vivian Nixon, a spitting image of her mom Debbie Allen in both looks and fire) but they're mostly used as decorative mannequins.  Sher seemed too overwhelmed by the scenery (like the upcoming Spiderman-Turn Off the Dark, the show suffered delays due to technical glitches) to see the ways in which dance could project Almodovar's wacky orbit better than the confusing visual circus we got instead.