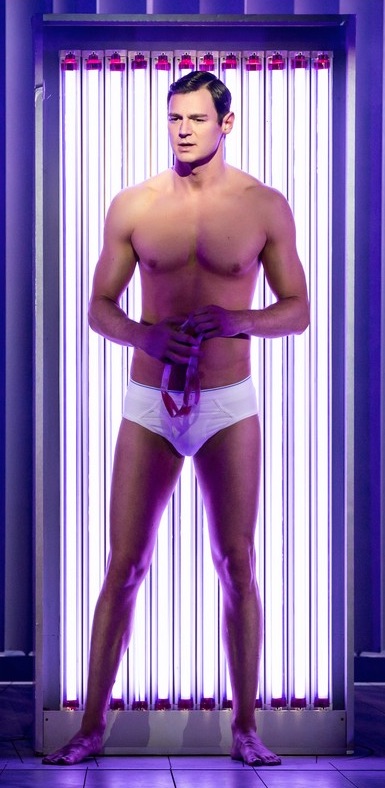 Musicals, when they work, are the holy grail of catharsis. A good one creates a kind of dream that's a bit like falling in love. It just…works. A world unfolds with a kind of inevitability that defy questions or puzzlement. No one feels manipulated. When you're watching the right one, it's like a pilgrimage to the Mount, so deep is our sense of joy and satisfaction.
That anyone gets it right is a miracle. Take American Psycho, a new musical set to play its final performance on June 5, 16 at the Schoenfeld Theater. It's hard not to admire the parts. There's a great story, based on Bret Easton-Ellis's what-the-fuck novel about a gleaming financier whose circa-1980s mind implosions push him into a clandestine life of serial killing. The music is a mix of the era's tunes and Duncan Sheik's droning, sensuous pastiches. The cast, lead by the silkenly lithe Benjamin Walker, is capable and game. The physical components-sets, lights, costumes and gleefully gory special effects-get the job done, offering surprises and a sense of the Wall Street-via-the Upper East Side world of Manhattan before AIDS ended the party.
I'm not sure what went wrong. Rupert Goold, the director, gave us an eerily creepy Macbeth a few seasons back, set in surroundings similar to Psycho's world of white and chrome surfaces. It's funny to compare this new show to the Bard of Avon, or even Stephen Sondheim's (our current bard) Sweeney Todd—Shakespeare and poetry aside, that too was a story of ego, and sanity, run amuck. Both outclass Psycho with their solid musical language(s) and the courage of their commitment to horror.
Unlike those pieces Psycho casts no such mesmeric spell, but perhaps the biggest problem is its willingness to eschew ambiguity. I'm talking about a question both the novel and the film adaptation expertly refuse to answer: does his killing spree actually occur, or do his murderous thoughts live only in his head? Rather than find a equally disturbing equivalent worthy of the material, Psycho's solution—a wedding!—wrings all the juice out of what came before. No spooky here; the makers have instead opted to campaign for a chapter in the fantasy sequel to Kenneth Mandelbaum's Not Since Carrie. Meanwhile, us musical theater fans are left to admire American Psycho's shiny surfaces, and to ponder why a potentially groundbreaking show failed to emerge from its makers' good intentions. RIP.