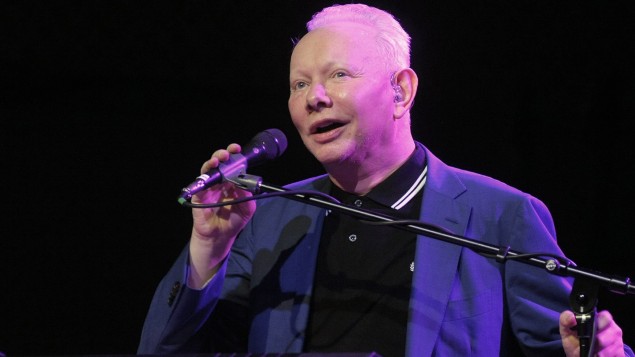 Joe Jackson's music feels like home to me, so I felt lucky to attend his Town Hall Four Decades tour in support of his new album, "Fool." He's someone I know primarily through his recordings (I'd seen him live only once before, at Radio City Music Hall in support of the 3-sided "Big World" from 1986). Listening to him you hear an artist for the ages: his music is a survey of rock, pop and jazz, his career a Rorschach of 20thcentury modalities: punk, New Wave, troubadour, cabaret and Vegas. At Town Hall that meant audiences for each of those eras were present, which made for a checkered experience. Call me old-fashioned, but when I pay for a ticket, I'm there to see-and hear…the artist. Those fans from his early, angry-young-man phase weren't having that, with the result that I also had to listen to sing-alongs and catcalls. Being a theatergoer, I've gotten used to people staying in their seats, and being respectful listeners.
Mr. Jackson was nonplussed—like the veteran he is, on some of the popular songs he actually left room for the crowd to chime in the lyrics many knew by heart.  The rest of the time he plowed on as if he were making music only for himself. And sometimes the house quieted down so you could hear the artistry of vocal and songwriting craft on such gems as "Wasted Time," "Breaking Us In Two" or "Tell Me One More Time."  Even the cover of Steely Dan's "King of the World" had a freshness due to Jackson's undimmed vocal ferocity and attention to what makes a song theatrically viable.  
Hearing old favorites live made me want to love the new songs more than I did. I felt myself getting restless, wondering if I was as bad as the philistines who felt entitled to stand up and dance when Jackson played one of his vintage hits. The new cuts received polite applause and I could hear why; songs like "Big Black Cloud" felt more like a sketch for a song; so did "Friend Better" despite a rhythmic heft reminiscent of 60s Go-Go, and his own clever "Down to London" from 1989's Blaze of Glory.  The new album's title track felt oddly fresh despite its raga beats, and I liked his appropriation of Shakespeare's lyrics from Twelfth Night juxtaposed with a tale of an actual fool (Trump?) lacking in either wit or wisdom.  And he used the lovely film-scorish "Alchemy" to open and close the show; it was a beautiful perfume of a song that clearly inspired the physical set – dark chiffon draped the stage like cobwebs, creating a nightclub-at-the-end-of-the-world ambience. I appreciated it—but I wonder if those fans who lost their minds when Jackson played "Got the Time" noticed.