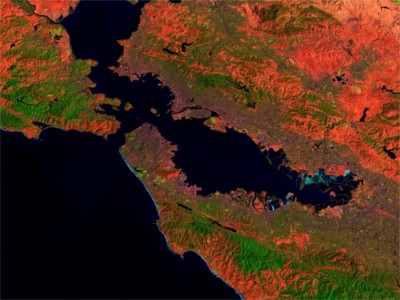 Last week's trip to San Francisco is written on my body. My back aches, which means I'm either out of shape, or getting too old to blithely scale the city's steep hills. My partner J and I took more trains and trolleys than in past trips; hot baths at day's end were warranted, a balm to our tight calves and lower back seizures that make one feel as if they've taken one too many bungee jumps from the Coit Tower.   
          The hills are worth it.  From there you're able to take in the city's great expanse and its true glory, the waters of the bay and the amazing Pacific; J had already been there a week for work (he's managing director of Meredith Monk/The House—that matchless composer/singer of wordless song fulfilled a short area tour).  For us two moonchildren, the sight of endless blue furnished a restorative that almost (but not quite) made me forget the abandoned bits of writing scattered about my office.
          I blocked my guilt with gluts of art.  Next door to our Hotel Rex, the San Francisco Museum of Craft and Art presented Tools as Art, a compact show of 1980s-era paintings and sculpture.  Across the street, the Pasquale Iannetti Gallery displayed Magritte etchings, the last works in the too-short (for me) life of this great Surrealist.  At SFMOMA, Mario Botta's lovely building would be worth a visit all by itself, but the current exhibit, Picasso and American Art, will hit the sweet spot of Picasso fans—and those of Pollack, Hartley, Johns and a few other ultras; as luck would have it, the museum's presenting our friend Ann Hamilton's installation indigo blue, a Rorschach of American commerce and sociology, and another pinnacle in this modern master's ongoing dialogue with time and the beauty of everyday things.  Vivian Westwood: 36 Years in Fashion at Herzog and de Meuron's (the Swiss rule in SF!) de Young Museum accomplishes a like exploration of history through clothing, an inadequate word for the blazing display of shape-shifting, punk-to-couture fashion on display.         
          We didn't neglect our stomachs.  Our first night we dined with pals, artist Elaine Buckholtz and author Nona Caspers (check out her book, Heavier Than Air, winner of the Grace Paley Prize in Short Fiction) at Anchor Oyster Bar in the Castro; other outings included The Stinking Rose (yep, a tourist trap, but for the love of garlic we were ensnared) and Delphina, a space that synthesizes lodge/cafeteria/garden into the kind of elegance more New York restaurants should emulate.  I recommend their mixed grill—and J's roast chicken with mashed potatoes, dishes that only hint at their delicious artistry.
         Our last night, we happy few took in A Pick Up Performance Co(S) production of their 2004 piece, Dancing Henry Five at the ODC Theater. Ruminating on the enduring science, and spoils, of war, New Yorker David Gordon beautifully combines Shakespeare's text (and William Walton's score from Laurence Olivier's 1944 film) with dance and Gordon's own trenchant text, one that draws parallels to our current situation in Iraq with wit and intelligence. Here's hoping we'll see a revival in New York—soon.