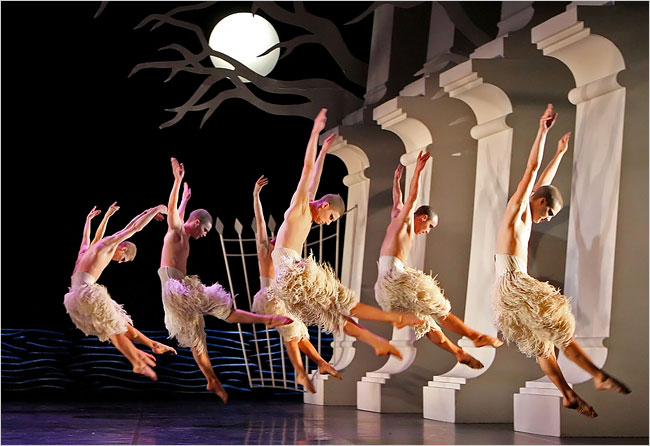 Published Attitude: The Dancer's Magazine Winter 2011
After a bravura Broadway run in 1998, Matthew Bourne's Swan Lake returns to New York's City Center this fall.  Amazing how little things have changed since this revisionist take on Petipa's classic ushered in a new era of dance theater.   Then as now, our political times were in tumult: President Bill Clinton was battling a prickly Iraq, the House Judiciary Committee and a news media determined to excoriate him for sexual conduct unbecoming.  Such a swell party for the nation's guardians of morality—too bad they were nowhere to be found on October 7 of that year, when two thugs murdered a 21 year-old University of Wyoming student named Matthew Shepard.  Today our war in the Middle East rages like wildfire, while around the globe homophobia manifests in ways that range from church-and-state sanctioned gay bashing and inequality to explosions of harassment and bullying that have sparked a wave of teen suicides.
I pondered the bad news as I waited for the curtain to rise, and observed the various factions of gay men taking in the show: yesterday's It Boys who likely saw Lake's original production; Jovian men who'd seen enough Swan Lakes for 50 lifetimes, gents who'd lived through those dark mid-20th Century days where gay sexuality lived in clandestine, closeted whispers; younger men who'd embraced Billy Elliott as their generation's The Red Shoes, or were drawn by this production's myths: it's an all-male production (false) that exults its flesh bearing swan corps (partly true).  Our origin stories were likely the same, with minor variations: barely men, we'd fled our repressed hinterlands for a Manhattan that would take us as we were, sans judgment or scorn, transforming our wistful longing into livable lives.  We were the lucky ones, strong enough to withstand the slings of harassment until circumstances gave us a way out.
Bourne's Lake could also be read as a dream of escape.  Transformation is still the subject, though it has nothing to do with true love's ability to vanquish wicked spells.   In this version, finding one's true self is more to the point, which means that the focus lies less on the swan, more on the all-too-human prince driven to suicidal despair.  The source of his pain throbs with Freudiana, from the prologue (a child's dream is haunted by the specter of a swan) to moonlit encounters (with both the primal, animalistic swan and his leather-clad doppelganger) that drive him to madness.  The story of a fatherless boy shunned by a libidinous mother is a dynamic analysts tout as a classic (and stereotypical) recipe for homosexuality.  But this Swan Lake could also be read as an investigation of myriad masculinity: the need for affection, or at least attention; male competitiveness, bound up in displays of physical prowess, or sexual desirability; the search for one's own singular way to be in a world where male roles are so narrowly transcribed.
Lake's initial palace scenes spoof both British Royalty's obligations to duty and appearances, and familiar TV shots of the Obama inauguration and Tea Party rallies, coronation tropes ripe with designer gowns, fawning media and rabid constituents who treat politicos like rock stars.  Bourne swaps the original's swan-hunting scene for another male rite, a drunken night at a dive called the Swanky Bar.  Thanks to designer Lez Brotherston, it's a 60s fantasia of neon and swiveling hips, full of sketchy eccentrics who embrace the range of ambisexuality and dissipation.  Far from liberating the prince, this night of debauchery drives him to a state of near suicide.
Which brings us to that infamous lake, and the show's coup de théâtre.   Much was made of the production's depiction of swans as they truly were: not delicate victims caught in a trap, but willful creatures imbued with a powerful, decidedly masculine physicality.  The details—the pointed, pecking palms (for beaks), the darting necks, and the powerful steps that, combined with dark-circled eyes, marked foreheads and costumes (Brotherston's genius: note how the swan's breeches quiver to convey the energy that lies just beneath the skin, an eerie effect)—still read as freshly as they did in 1998.  These empowered swans show the lost prince another way to be.   Flight grants them freedom, bestows immunity to prescribed constraints of behavior and feeling.
The performers play it to the hilt.  Nina Goldman's Queen is all ice one moment: a volcano indulging her Clintonesque desires the next.  Jonathan Ollivier's Swan is a physically dynamic portrayal that emotionally matches that of the Broadway original Adam Cooper.  He has physical magnetism to burn, an effect of effortless-seeming leaps and aerial turns that made my audience swoon.
But Simon Williams gives the evening its soul.  Less delicate than Scott Ambler's (who's currently alternating as the Private Secretary) original, the beefy Williams is more of a dirty angel than danseur noble.   He's a hapless soul whose impalpable longing gives his early duet with the Queen a sense of desperation worthy of Hamlet.  When he and Ollivier's Swan meet in an unsettling dance of mutual submission/domination (you could have heard a pin drop when Bourne froze the image of the Prince clasping the body of the Swan from behind, as if he were mounting him) you sense the Prince is actually dancing with his shadow, or the self he'd like to be.
His epiphany leads to tragedy, and opportunities for Bourne to blow us away with stagecraft.  In the second act's ballroom scene the appearance of the Stranger (Odile in the original) sets the women's hormones racing, throws the men into fits of derring-do (a United Nations of dance where Russian folk, tango and apache dance roll through the scene like mutant waves of testosterone) and prompts the prince's breakdown.  An asylum scene provides a touch of Grand Guignol, with nurses masked to resemble the Queen.  The finale is a breathless fever dream.  The prince's bedcovers vomit swans that attack first him, then his inamorato.  Soon the prince lies dead on his bed, but in the window above we see the swan cradling the prince in an eternal embrace: a diptych of tragedy and affirmation.   As if ripped from today's headlines, that dual message speaks to the shortcomings of a society blind to those in need of emotional rescue.
©Ennis Smith
Matthew Bourne's Swan Lake @City Center, New York City October 13-November 7, 2010, Direction & choreography: Matthew Bourne; sets and costumes: Lez Brotherston; lighting design: Rick Fisher
The Swan/Stranger: Jonathan Ollivier
The Prince: Simon Williams
The Queen: Nina Goldman
Private Secretary: Steve Kirkham
Girlfriend: Madelaine Brennan