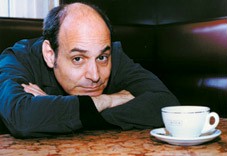 Winter—the warm weekend aside, such a slog, exacerbated by the downward spiral in our economy, unemployment numbers that have everyone on edge, and the possibility that the gay mayor of Portland, Sam Adams, might be down for the count because of an ill-considered sexual indiscretion.
Nail in the Coffin Dept:  The Oscar Wilde Bookshop, the nation's oldest gay and lesbian bookstore, will close in March.  Some might say we no longer need a separate place for peaceful browsing since the advent of Amazon and the new enlightenment (hah).  But I'm a stickler for preserving history—and as for meeting the needs of a gay readership, well, the big chains are simply lacking as anyone who's surveyed the stacks at Barnes and Noble can attest.  Oscar Wilde is one of the West Village's jewels; it's a heartbreaking loss. 
Good news: this morning I received a press release from Dance Theater Workshop—they're offering reduced tickets for the months of February and March: $10 online, $15 at the box office.  Firefall, an evening by the visionary performance artist John Jesurun (above) runs this weekend.  At those prices, there's no excuse not to get the hell out of the house and grab a dose of culture.