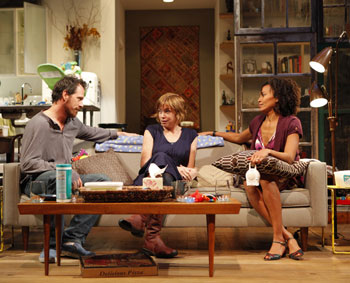 Some will go back to work, while others will return from long vacations, visits to family or friends, or the epic drunk they've been on since the office Christmas party. For most of us the Monday after New Year's Day signifies the true turning of time, and a return to business as usual. I've long since outgrown the whole resolution thing.  Honest folks know that everyday is an opportunity to get it right, or fail and get up again: to be a better person, to work harder, to not let the petty annoyances wound too deeply or make me forget what I'm about. Resolutions are tools to feed the flames of anxiety, something I've already plenty of, thanks.
But if I had to make one, perhaps mine might be to get out more. Maybe it's a Cancer thing, but all I want to do this time of year is hole up in my apartment and read or darn a sock or two.  In New York City such pursuits sound a touch nutty (though one might also see it as a prerequisite for sanity); still, I actually managed to crawl outside over the holidays. Some of my outdoor/indoor pursuits:
Finian's Rainbow. Shameful it's being allowed to close this month; this revival shows what can be done when everyone's hearts are in the right place vs. a cynical one. I confess I wasn't gaga when this show had been announced, but I'm glad I went: like the best classics, this vintage confection by E.Y. (Yip) Harburg and Burton Lane has a ton of right-on things to say about our current times (race, greed, power,) abetted by some of the best songs ever written, sung by performers who aren't stars on the level on Daniel Craig or Hugh Jackman.  They just happen to be very good at what they do, which makes them stars in my book. Kudos to director Warren Carlyle and a cast that includes Kate Baldwin, Cheyenne Jackson, Jim Norton and Chuck Cooper—they and the rest make me wish I could spend every night in the theater. St James Theater, thru January 17.
Avatar. It's true what they say: James Cameron's newest heralds a new era in cinema. Like a waking dream that won't let you go until its final showdown in a forest redolent of the Garden of Eden, Avatar's breathtaking beauty is one that, ironically, only technology could make possible. Watching it, you almost overlook the rather conventional story, so sentimentally shopworn that the déjà vu evoked provides a kind of lulling, but then story was never Cameron's strong suit (I still shake my head at the memory of the character Newt in his otherwise perfect Aliens). You'll let it ride.  The sensory rewards are compensation enough, which means don't be cheap–the 3D version is worth every penny.
This. Got a chance to see this elegant work by Melissa James Gibson at Playwright's Horizon before it closed (which it does today at 3) and wished I could have gone earlier, so's to tell my friends; what a rueful mediation on relationships and dreams deferred, on the inevitable disappointments that only life can bestow and our ridiculous attempts to control it all. James' quartet of thirtysomethings are funny and heartbreaking, a portrait of the way some of us were back then—experts at submerging fears with wit, sex and borrowed intellect—and still are. With its single set and small ensemble, Gibson has created a gift for regional theaters; long may it wave outside New York.
The Pegu Club. Pal Bruce Hodges introduced me to this place, and I confess, I'm in love—with bartenders for whom the appellation mixologist feels more appropriate; with the dark, amber tinged room where bottles and glasses flit on mirrored shelves like mischievous genies; with an atmosphere that summons speakeasies and the New York that beckoned to me as a child, an elegant, sumptuous city where the promise of adventure unspooled like your favorite movie. Go on a quiet winter's night to experience a lift or something akin to heady optimism—though that may be the gin talking.
above, Darren Pettie, Julianne Nicholson and Eisa Davis in Melissa James Gibson's This (photo, Joan Marcus)