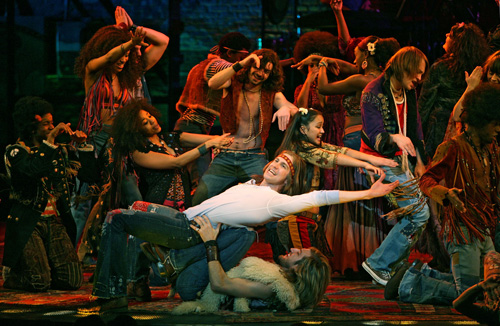 The past feels very present in the current revival of Hair (Al Hirschfeld Theater). As the kids bop and bounce in Diane Paulus' high-flowered production, it's hard not to feel nostalgic about another revolutionary time that mirrors America's present state. True, those times were fraught with draft card anxieties, routine quells of civil unrest by those insensitve pigs and the toppling of the status quo. But there was also innocence in the air; the moral chains that had kept us down for so long were finally broken. You sensed that finally the world had been given permission to exhale.
Director Paulus (I still recall Eli's Comin, her lovely, powerful evocation of Laura Nyro songs at the Vineyard Theater) captures the time's generous breakout spirit, but her Hair also locates the insecurities of a generation torn by allegiances—to the morality of a 50's that still hovered, and the responsibilities that came with those new-found freedoms ushered in by the 60's. Viva drugs and free love, but in the morning Hair's flower children have the same questions, face the same decisions as the youth of today, and those who came before.
A winning cast embodies the ambivalence expertly—among the standouts are Will Swenson, Gavin Creel, Caissie Levy, Allison Case, Bryce Ryness, Kacie Sheik and Darius Nichols. The costumes (Michael McDonald), sets (Scott Pask) and lighting (Kevin Adams) combine to bring McDermott, Ragni and Rado's (composer, book and lyrics) world of mirth and heartbreak to stunning visual life. Hair is a must–Let the Sun Shine!